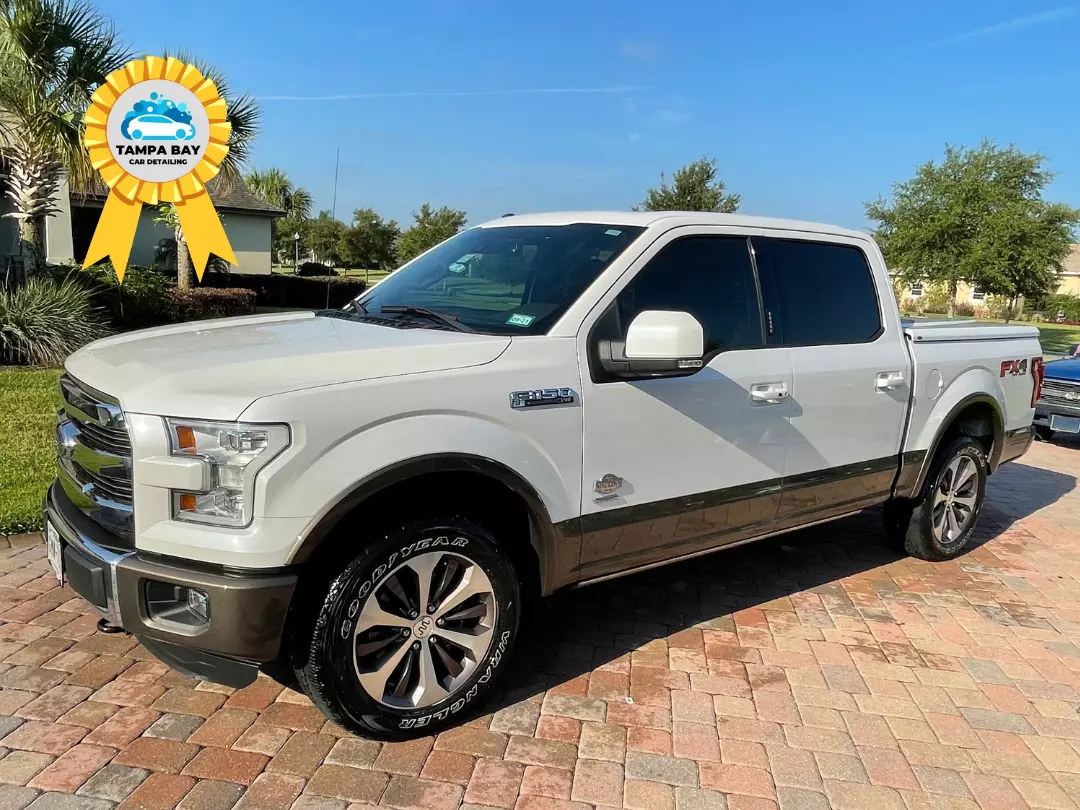 Are you searching for boat detailing in Tampa Bay, FL? Tampa Boat Detailing, also known as Boat Detailing Tampa, is a boat detailing service throughout Central Florida! We have more than 25 years of experience in the boat detailing industry. In Tampa, boats require protection from the corrosive saltwater of the Gulf of Mexico.
Tampa Boat Detailing is a mobile detailing service! Frequently, we work on boats in locations such as a driveway, marina, or storage facility. Regardless of the location, we are the best boat detailing service in Tampa, Florida. Additionally, boat detailing services are affordable. We have packages starting at $299.

John Paul
August 26, 2021.
Tampa Car Detailing restored my 2016 BMW M2 Coupe 2D, and the results blew me away! John (the owner) was extremely professional. He provides exceptional customer service as he cares about his customers. John, and his helper, detailed the exterior of my black BMW within a few hours (minor scratch & swirl removal). Honestly, they exceeded my expectations! First, they are a mobile detailing service. Second, they charge less than the other car detailing services in Tampa. Last, they included a complimentary interior vacuum. Thanks again!

Mitchell Powell
December 19, 2020.
My friend recommended John with Tampa Bay Car Detailing. After she scheduled the mobile car detail, they were detailing her car the next morning. On December 6th, I scheduled an appointment with John. He arrived the next morning, and thoroughly explained his auto detailing process. After John completed the detail, I was dumbfounded! My car looked brand new, and John didn't miss a spot. Obviously, I am extremely happy with this car detailing service!

Michael Orso
December 11, 2020.
Thank you! Although we scheduled an exterior detail, John provided a complimentary interior vacuum. Besides the wonderful customer service, John provided an outstanding exterior detail. We needed some scratches taken care of on the passenger door, and he buffed them right out for us. When our cars are dirty, we will definitely give y'all a call!
Boat Detailing Services
Tampa Boat Detailing, also known as Boat Detailing Tampa, is an affordable boat detailing service! We offer a few packages: interior detailing, exterior detailing, and complete detailing. Frequently, customers opt for complete detailing packages with add-on services such as chrome polishing, paint correction, and stain removal. Unfortunately, boat detailing prices vary due to the condition of the boat.
Sometimes, boat detailing services require a comprehensive process! First, we rinse the exterior of the boat. Second, we polish the exterior of the boat with high-quality detailing products. Third, we clean the interior of the boat. Would you like to learn more? If so, click here.